---
Community Life & Service
August 17, 2017
---
---
This Week
---
A Moral Test
- from the Rector
Last weekend's violence in Charlottesville, Virginia, opened a window into our national soul and the deep wounds of racism that still fester there. It also afforded opportunity for us as a country to take a moral stand against a nihilistic, genocidal worldview that took millions of innocent lives in the last century.
The President, by equivocating in his response, abdicated his moral responsibility to address this evil. His abdication left us as Christians, as citizens, and as part of the wider body of God's children no choice but to unequivocally denounce what we witnessed and to speak for the kind of society we envision for the future.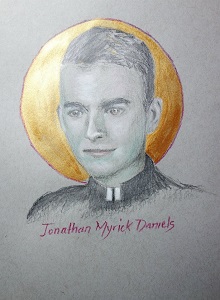 Heather Heyer lost her life in Charlottesville last weekend bearing witness against hatred and violence. Her witness resonated with a figure we commemorated this past Monday, Jonathan Myrick Daniels, an Episcopal seminarian who, inspired by the Magnficat – the Song of Mary – journeyed to Alabama to help in the Civil Rights movement. He died on August 20th, 1965, shielding 16-year-old African-American civil rights activist Ruby Sales from a rifle shot.
The Episcopal Church has a long history of equivocating about racism and, before that, Manifest Destiny and slavery. Colonial Anglican clergy were sometimes paid with tobacco grown by slave labor on plantations. The slave trade built some of our early churches and provided the foundation for some of our longstanding assets. Our missionaries were part of the push west that dislocated and destroyed numerous indigenous cultures and peoples. The Episcopal Church, to keep Southern dioceses in the fold, refused to repudiate the institution of slavery during the Civil War. We refused to de-segregate many of our parishes in the aftermath of Reconstruction and allowed Jim Crow to rise unaddressed. Even in the 1960's, when our own Rector, The Rev. Murray Hammond, decided to heed the call of The Rev. Dr. Martin Luther King and join the March on Selma, several families left Church of Our Saviour in protest.
So taking an unequivocal stand now is part of our ongoing process of repentance as a Church. Our refusal to permit the old evils of bigotry, racism, and fascism to take root is an undeniable part of our vocation as baptized Christians.

I have been heartened this week by many responses to Charlottesville. Numerous political, business, and military leaders have spoken unequivocally against white supremacist groups and the violence they espouse. Episcopal clergy were part of the counterprotest in Charlottesville, witnessing peacefully to counter the voices of hatred and violence. Many voices across the Church have also spoken and continue to speak, from our Presiding Bishop to our Bishop in the Diocese of California to our Vestry, which last night unanimously passed the statement below.
Our voices join the many voices across different faith traditions and in wider civil society that refuse to open the door to a violent evil while continuing to seek paths of healing for our common wounds.
This is critical ministry for us. We are deciding what kind of society we will be.
Please join us in that effort through action and prayer.
With blessings and love to all of you in Christ,
Br. Richard Edward+
O gracious and loving God, we pray for our nation, and for those who lead it. We ask your wisdom to lead us through troubled times. We renounce the violence in Charlottesville last week and the surge in white nationalist elements in our country. Show us the way forward, and may we make no peace with oppression. In the name of Jesus Christ our Savior, and through the Holy Spirit. Amen.
- from a petition for Sunday's Prayers of the People
by The Rev. Margaret Trezevant
---

Adopted unanimously by the Vestry on August 16th, 2017
As a Christian community responding to the violence in Charlottesville, Virginia, last weekend:
We repent of the sin of racism, and we seek to help our wider community and nation do the same.
We renounce the resurgence of white supremacist and fascist groups in this country, and we renounce all political rhetoric that offers comfort to their spreading hatred and violence.
We renounce all discriminatory policies and speech that corrupt and destroy the creatures of God.
We renounce violence in all its forms, and recommit ourselves to promoting a peaceful society in which all of God's children may thrive.
We recommit to helping dismantle the societal structures that perpetuate unequal access to education, housing, employment, and healthcare; and that continue to divide us and our neighbors along lines of race, class, cultural heritage, orientation, religion, and gender.
We publicly pledge ourselves to live more fully into our baptismal covenant, "respecting the dignity of every human being," and we call on all of our neighbors to do the same.
We follow our Savior's command to "love our neighbors as ourselves" and stand with all of our sisters and brothers of every background in promoting a more peaceful and just world.
The Rector, Staff, and Vestry
of The Episcopal Church of Our Saviour
Mill Valley, California
---
Contemplative Prayer Group Continues
All who are interested are invited to join Br. Richard for contemplative prayer practice in the parish library from 11:45 to 12:30 following coffee hour on Sunday, August 27..
This ancient Christian practice helps calm the mind, reduce stress, and center us in God's presence, paralleling meditation practices in many other spiritual traditions.
No experience necessary, no sign up necessary, just join us!
---
Please sign up to teach Summer Sunday School!
No one has yet signed up for the rest of July and August.
Please sign up on the flip chart in the Fireside Room (near the stairs) or online or contact Gerry Caprio.
The Summer Sunday School program is easy, low-commitment, and fun! Materials will be provided. Preparation is minimal. Teachers greet children as they arrive, read a story to them, and facilitate snack time-duties which are divided between two adults.
---
Dishes, Dishes, Dishes
The cupboards in the Fireside Room are overflowing with dishes!
If you bring a dish for the Mt. Carmel lunch, the empties are stored in the closet on the landing in the Fireside Room.
If you bring a dish or a platter with goodies for coffee hour, the empties are put in the closet next to the coffee maker in the Fireside Room.
Please take time to look in both these closets and take home any dishes, bowls, platters or plastic containers that are yours! There are so many dishes crammed in these closets right now it is difficult to shut the doors!  Thanks for your help!
---
Godly Play Coordinator Position Open
Church of Our Saviour is seeking qualified applicants for a paid, part-time Godly Play Coordinator position. Check out the full job description, contact Tiana Wimmer or Br. Richard Edward for more details, and feel free to share this position with anyone who might be interested.
---
Coming Up
---
SAVE THE DATE!
A Celebration of 125 Years
Church of Our Saviour Gala
Saturday, September 30th, 2017
6:00 pm
Campbell Hall, Christ Church, Sausalito
---
Fall Parish Retreat
Join a relaxing weekend at the beautiful Bishop's Ranch in Sonoma

Friday evening through Sunday lunchtime, September 22-24, 2016
Our ever-popular, annual parish retreat draws members of all ages into a fun-filled, relaxing weekend, making a perfect start to your autumn activities. The Bishop's Ranch in Healdsburg offers hiking trails, a pool, easy access to fabulous wineries, delicious meals, beautiful space for prayer, reflection, and conversation, and comfortable accomodations for singles, couples, and families.
The Retreat for this year is fully reserved, but if you would like to be put on the waiting list, please contact Rose in the office by email or at 415-388-1907.
---
Coming Up at Church of Our Saviour
Thursday – August 24 – 3 pm – Staff Meeting – Office

Sunday – August 27:
11:30 am – Acolyte Training after the 10 am service
11:45 am – Contemplative Prayer – Library
1:30 pm – Ecumenical Service – The Redwoods
Tuesday – September 5 – 6:30 pm – Continuing Capital Campaign Meeting

Thursday – September 7:
3 pm – Staff Meeting – Office
7 pm – Choir Practice – Choir Room

Sunday – September 10 – Sunday School Kick-Off Sunday

Wednesday – September 13:
6:30 pm – Vestry Meeting – Fireside Room
7 pm – Marin Deanery Meeting – St. John's, Ross

Thursday – September 14 – 7 pm – Choir Practice – Choir Room

Friday – September 15 – 7 pm – John Denver Concert – Benefit for Curtain Theatre
Tuesday – September 19 – 9:30 am – Mt. Carmel Hot Lunch Program

Thursday – September 21:
3 pm – Staff Meeting – Office
7 pm – Choir Practice – Choir Room

September 22-24 – Parish Retreat at Bishop's Ranch

Sunday – September 24 – 1:30 pm – Ecumenical Service – The Redwoods

Thursday – September 28 – 7 pm – Choir Practice – Choir Room
Saturday – September 30 – 6 pm – 125th Anniversary Celebration – Christ Church, Sausalito

Sunday – October 1 – St. Francis Day
---
Seeking the Spirit
---
Proper 14 (Track 1)
August 13th
by The Rev. Br. Richard Edward Helmer
In the wake of white supremacist violence in Charlottesville, we hear Matthew's telling of Jesus walking on the stormy sea. Are we willing to step out of the boat to join him?
---
Listening to servant leadership
Once, when a young friend of mine was grieving the death of a favorite aunt, I asked her what she would miss most. With tears in her voice she told me, "She really listened to me. She didn't just pretend."
At the core of servant leadership is this essential skill. We must learn to really listen. No one is served who hasn't been heard. Remember those times when you felt patronized or written off? The people with whom you were in contact were not listening to you, and as the result, these were not the moments when your needs were met or your causes furthered. Now remember the other times, those moments when someone totally "got" you.
Good listening is hard work. It is not as simple as focusing one's gaze and giving off the correct body language. It is a kind of oblation, a self-emptying. One must put aside the clanging, churning turmoil of one's thoughts and feelings to provide a space of welcome. Good listening is at heart a generous hospitality. Setting oneself aside, opening all the senses, one becomes aware of words and gestures, the quality of silences, the set of a chin or thrust of a shoulder. What do all these things mean? What do tears mean, or laughter? One must learn the unique language of the one to whom one is listening.
We bring to good listening our own reactions and feelings. But we must clear our hearts of opinions, of preconceived ideas, of understandings forged in some distant class room or family gathering. Before us is an individual. In humility we must let them tell us who they are, what is important to them, and, finally, what they need.
You can see how the practice of contemplative prayer can prepare us for this work. It gives us experience in letting go, in receptivity and attentiveness. Indeed, contemplative prayer is also all about listening – listening for God. And listening for God is essential to being a servant-leader. It opens to us the dimensions of creative response and engagement beyond our personal perspective. It opens us to love and peace and frees us from fear.
Jesus tells his disciples, "Whoever wishes to become great among you must be your servant, and whoever wishes to be first among you must be slave of all." Enslaving ourselves to one another through the profound gift of attentive listening and then doing what is necessary to end oppression and suffering is the service he requires.
Laurie Gudim works is a religious iconographer and writer in Fort Collins, Colorado. You can view some of her work at Everyday Mysteries. She has recently published her novel, Loving the Six-Toed Jesus, available from Amazon.
Image: Creative Commons
From Episcopal Café.
---
Prayers this Week
In our Church of Our Saviour Cycle of Prayer, we pray today for, Mary Wilson, Frances Whitnall and Ludmila Bachyla, and for the ministry of our Altar Guild, and for those who celebrate their birthdays, especially Alex Lang, Philip Walker, Kitty Hayes and Sarah Walker. In the Anglican Cycle of Prayer, we pray for the Diocese of Rochester. Please pray for those who are ill and in need of comfort, especially Dan, Jack, Michael, Will, Yolanda, Aylin, Bob, Harriet, Gary, Larry, Rufus, Michael, Mel, Elessar, Merritt, Vanessa, John, Willy, Kern, Deborah, Barry, Palmer, Scott, Tanya, Grace, Suzannah, Laura, Marilyn, Carole and Bernadette; those serving in the military and overseas, especially Leif, Steven, Jane, Quinn, Christopher and Andrew; and those who have died, especially Heather and Darrell. We pray for all who are affected by terrorism around the world. We pray for justice and peace in the Middle East, especially at this time for the people of Aleppo and all of Syria, for comfort for all victims of violence around the world. We pray for all who seek stable housing throughout the Bay Area, and for all who organize to address the housing crisis.
Prayers of the People are updated weekly. Names of those desiring prayers may be added to the Sunday prayers or to this bulletin, with their permission, by contacting the church office.
---
Faith in Action
---

Equipping the Beloved Community — Finding Home: Embodied Welcome, Embodied Justice, at St. Stephen's, Belvedere
What does it mean when folks say they've found a "home"? How does helping another person find "home" require Christians to step outside the building and step into the community with a message of welcome, healing, justice, and acceptance? Dr. Russell Jeung, a leading sociologist on Asian Americans, race, and religion, will share from his memoir, At Home in Exile: Finding Jesus among my Ancestors and Refugee Neighbors, helping participants recognize the hallmarks of following Jesus into the communities they live in to welcome the stranger. A variety of workshops for lay leaders, clergy and volunteers will be offered. Registration is now open!

When: Saturday, September 9, 10 am to 4 pm
Where: St. Stephen's, 3 Bayview Ave., Belvedere
Link: diocal.org/etbc
Registration: https://diocal.wufoo.com/forms/equipping-the-beloved-community-fall-2017/
---
The Wider Church
---
Hildegard von Bingen's Ordo Virtutum
San Francisco Renaissance Voices
Deepak Ram, bansuri master
Diana Rowan, Celtic harper
Katherine McKee, Director
Hildegard von Bingen's master work Ordo Virtutum portrays the journey of The Human Soul, guided by The Virtues and their queen, Humility, to obtain wholeness of spirit. In this acclaimed East-meets-West staging, Leandra Ramm and Alice Del Simone alternate as the Soul, and Linda Liebschutz portrays Humility, with Twila Ehmcke, Winona Hendrick, Alison King, Elfrieda Langemann, Gail MacGowan, and Maura Sipila as the Virtues, Joseph Schmitz as the Devil, and a chorus of Souls, Patriarchs, and Prophets. The singers are joined by dancers, bansuri master Deepak Ram, Celtic harpist Diana Rowan, and percussionist Todd Jolly. Directed by Katherine McKee.
Date & Time: Saturday, August 19, 4 pm
Venue: Incarnation Church, 1750 29th Avenue, San Francisco
Tickets: $20 General; $15 Seniors/Students Buy tickets online
---
Programs at Bishop's Ranch
Fall Service Day
October 7, 2017, 8:30 am-12:30 pm
Register
Enjoy a Saturday morning helping to enrich the environment of The Bishop's Ranch through hands-on projects. Participants will work with Ranch staff around the grounds, in the gardens, or on the trails. Service days are a great way to spend time in nature and learn about the Ranch while making new friends. There are tasks for volunteers of all ages, but children must be accompanied by an adult. Participants are welcome to stay after lunch to hike and swim through the afternoon. PLEASE REGISTER BY: October 1, 2017
Fall Hike
October 21, 2017, 9:30 am – 3 pm
Register
1 day/1 meal (sack lunch)
$17 per person
Spend a Saturday walking the little-known trails of The Bishop's Ranch and explore its many habitats. Situated on rugged terraces above the Russian River, the Ranch lies between the conifer forests to the west and north and the heavily cultivated river floodplain with remnant riparian forest to the east. The hills and ridges offer spectacular views of the river valley's unique geography, and Ranch staff members will guide this rambling walk with a special eye towards discovering viewpoints from which to enjoy the autumn sights. PLEASE REGISTER BY: October 14, 2017
---
Programs at St. Dorothy's Rest
We wanted to let you know about the upcoming programs taking place at St. Dorothy's Rest.


September 11-14th- Camp Wise
Camp Wise is a 4-day experience that invites Seniors (ages 60+) to come and experience highlights of our summer camp program with peers. Attending camp provides young and old an opportunity to experience the healing that we believe can occur by being in nature. Camp also is a place where participants can meet new people, play and try new things. Our staff is uniquely equipped to provide seniors with a memorable camp experience that is full of fellowship, fun, activities, worship, s'mores & more!
Register Here: www.stdorothysrest.org/events/camp-wise/
Join us for a Saturday Hike!
Explore portions of our 380-acre property from our reservoir, waterfalls, amazing vistas, organic garden, and more. Each hike will explore a different area and experience of the property and will be led by Ben Evenbeck, Land Manager of St. Dorothy's Rest.
Saturday Hike: June 3, September 9, October 14
Register Here: www.stdorothysrest.org/events/saturday-hikes/
---
Parishioner Classifieds
---
Curtain Theatre Presents The Miser by Molière
Greed meets love and hilarious antics in this classic satire directed by Kim Bromley. Original music, great sets, fine choreography and the talented Curtain Theatre company make this a memorable performance. Enjoy a perfect afternoon in the redwoods outdoors behind the Mill Valley public library. Open seating or bring your own and come a bit early to catch the preshow delights.
Weekends and Labor Day, August 19–September 10
Begins at 2 p.m. Free admission, no tickets necessary.
Photo by Russell Johnson
---
Charles Forest is looking for an office
I'm starting my Jungian practice, which consists of a combination of psychological and spiritual counseling. The emphasis is on dreamwork and other imaginal practices. At present I'll be doing this work on a volunteer basis, free of charge.
I'm looking for an office for all day Saturday. Please let me know if you know of one, at kcf2014a@gmail.com. Thanks in advance for your help.
- Charles Forest
---

---
Send in your work, service, or spirituality-related classifieds for the parish. Postings will be retained for one month, after which you may refresh them for re-posting.
---