---
Community Life & Service
October 12, 2017
---
---
This Week
---
The church office will be closed this Friday, October 13th.
The Old Mill School Lap-a-thon scheduled this Sunday, October 15th, has been cancelled due to poor air quality.
Parking should not be a problem on Sunday.
Church of Our Saviour will be offering our regular service schedule this Sunday, the Godly Play Classrooms will be open, and an adult education forum on the Reformation will be offered as planned. We are, however, rescheduling the trip to the Marin Headlands for a future Sunday when air quality improves.
---
From the Rector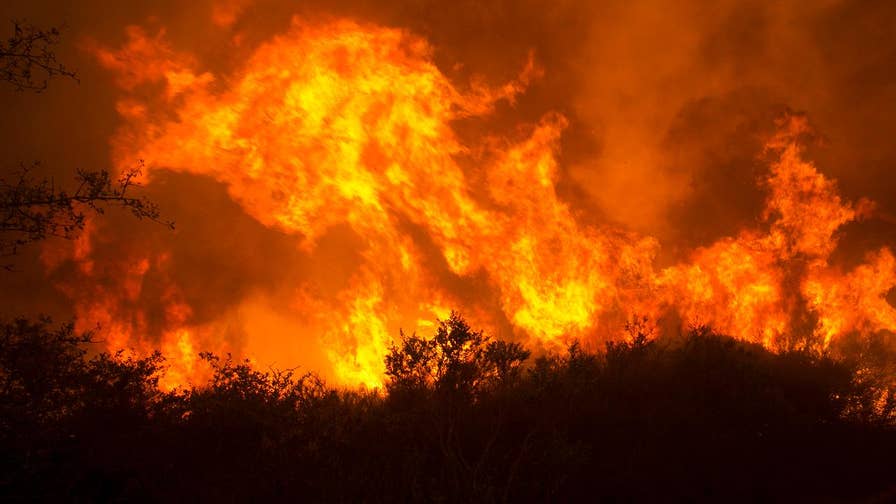 Thank you to everyone for your outpouring of generosity this week as we join the wider community in responding to the wildfires in Sonoma, Napa, and the rest of Northern California. Here are a few updates as of Thursday afternoon:
- The imminent evacuation of 15,000 Sonoma residents has been canceled for the time being, easing pressure on Marin to prepare for a large influx of evacuees. Thank you to everyone who offered to open your home to those needing shelter. We will be in touch if the need arises again. Maggie Lang has been directly involved with potentially setting up an emergency shelter at Tam High. She is advising us, and we are also networked with other faith communities in the area through the Marin Deanery, the Marin Interfaith Council, and the St. Vincent de Paul Society. Church of Our Saviour is also prepared to open as a secondary shelter for up to 10 evacuees as needed.
- Church of the Incarnation, Santa Rosa, received an evacuation advisory late yesterday, and evacuated last night. This morning, we received word that the parish building remains undamaged. We continue to raise funds for the Incaration Fire Relief fund used to aid those directly affected by the wildfires. You can contribute directly online here or by leaving an offering in the plate this Sunday. Just write a check to the Church of Our Saviour Discretionary Fund, and write "fire relief" in the memo line. We will send a check aggregating our contributions from the Discretionary Fund to Incarnation next week.
- We received word from the Bishop's Ranch that they have not suffered any direct damage from the wildfires at this time. However, they are sheltering a number of staff members who have lost their homes to the fires, and the Ranch has canceled all their retreat groups this week and through the weekend. Contributions to help offset the cost of these cancellations may be made directly to the Ranch Annual Fund.
- Air quality has become a great concern here in Marin over the past few days and will remain so through the weekend. We are postponing our Marin Headlands trip this Sunday to limit outdoor exposure until the air quality improves. Look for an announcement about a new date for this trip in the coming week. Meanwhile, check regularly on your neighbors who have respiratory issues, monitor children and the elderly closely, and minimize all outdoor activity until the air quality improves.
We will keep you appraised of other ways to help in this crisis over the coming days. Your prayers and generous willingness to join in relief efforts are a great blessing to many.
Keep safe. Keep praying. Continue to bear witness.
With love to all of you in Christ,
Br. Richard Edward+
---
Adult Education Forum - October 15th:
The Reformation
11:45 am in the Church of Our Saviour nave.
Dr. Dryden Liddle, our "resident historian" speaks with Br. Richard Edward about a seminal moment in the history of Western Christianity five hundred years ago, and how it has shaped our own tradition and society down to the present day.
---
This Sunday, October 15, 9:45 am:
Godly Play for Children
(pre-school through grade 4)
Sunday, October 15, 9:45 am: Children and grand/parents gather at the labyrinth at 9:45 am for song and yoga prayer. Grand/parents continue on to 10 am worship while children go to their Godly Play rooms for story, work time, and Feast.
This Sunday, children in pre-school through Grade 2 will hear the story of "The Exodus"--God's calling of God's people out of Egypt, from slavery into freedom. Children in grades 3-4 will hear "The Story of Moses", a series of tales of God's callings to the great prophet of Israel--from the Burning Bush, to the parting of the waters to escape from Pharaoh, and into the wilderness to follow God's ways. Next week we will hear the story of "The Ten Best Ways", God's calling of God's people to love God and love people because God loves us. Following Godly Play, children will rejoin their families in the sanctuary to share Holy Communion.
---

Donate now to the relief effort for Hurricanes Harvey and Hurricanes Irma.
---
Coming Up
---
Postponed: Godly Play Group Family Outing to the Marin Headlands and the Marine Mammal Center
We are rescheduling this event due to air quality concerns this weekend. Watch for announcements next week about a new date.
---
Contemplative Prayer Group Continues
All who are interested are invited to join Br. Richard for contemplative prayer practice in the parish library from 11:45 to 12:30 following coffee hour.
This ancient Christian practice helps calm the mind, reduce stress, and center us in God's presence, paralleling meditation practices in many other spiritual traditions.
No experience necessary, no sign up necessary, just join us!
Mark you calendars for October 22 and November 26 for the next meetings.
---
Sunday, October 29: Halloween: Getting ready for All Saints. Kids come to Church in Costume!
Kids — Did you know that, for centuries, Halloween was the Church's way of getting ready for the Feast of All Saints (when we remember all the people, who, like St. Francis, came especially close to God)? You are invited to wear your costumes to church on October 29! We'll have a story about All Hallow's Eve (Halloween) and then have special "work time" on this Sunday before our Community Sunday (November 5) when we celebrate All Saints. We'll also have a "share a blessing" for all the children at the end of the 10 am service.
Sunday, October 29: Godly Play Greeters' and Story Tellers' Luncheon Gathering
Godly Play Greeters and Story Tellers--and anyone interested in learning more about the Godly Play ministry with children--are invited for a luncheon on Sunday, October 29, from 11:30 am-12:45 pm. Childcare with a kid-friendly lunch will be provided.
Let's gather together to greet one another and hear about what draws each of us into serving the children through Godly Play, the heart of children's ministry at Church of Our Saviour. We'll also discuss ways we might grow together as a community of Godly Play ministers and work to facilitate the flow between our Godly Play feast and joining the rest of the congregation for the Great Feast of the Eucharist. RSVP to Pastor Stephanie.
---
Adult Education Forums this Month
October 29th: Bonhoeffer's Discipleship
A Christ-centered Life
Guest Michael Morison will examine the role of Christ in Dietrich Bonhoeffer's life, work, and theology through his discipleship lived in the tumult of Nazi Germany and a World War.  In prison, Bonhoeffer reflected on a "world come of age."  We will explore what Bonhoeffer has to offer to the Christian disciple today.
Michael Morison holds a Master of Theology degree from Loyola University of Chicago and a Master of Divinity degree from Westin Jesuit School of Theology in Cambridge, MA. His thesis for his systematic theology degree was titled: Christology as the Unifying Factor in the Life and Work of Dietrich Bonhoeffer.  During Morison's research, his mentor was Dr. F. Burton Nelson who was the Vice President of the International Bonhoeffer Society's Oral History Committee.  As a result, Morison had access to Bonhoeffer's family (including Bonhoeffer's official biographer Eberhard Bethlehem), friends, students, and unpublished source materials. 
---
High School Youth Volunteer Opportunities
Beginning on Monday, October 16 - 2:30 - 4:00 pm - High School youth begin another year of tutoring at Bayside Martin Luther King Academy in Marin City
Saturday, October 28 - 10:30 am - 1:00 pm - High school youth volunteer at St. Vincent de Paul Dining Hall
Saturday, November 4 - 10:30 am - 1:00 pm - High school youth volunteer at St. Vincent de Paul Dining Hall
Saturday, December 2 - 10:30 am - 1:00 pm - Middle Saints and High school youth volunteer at St. Vincent de Paul Dining Hall. High school will serve, Middle Saints will decorate for Christmas.
---
Coming Up at Church of Our Saviour
Thursday – October 12 – 7 pm – Choir Practice – Choir Room

Sunday – October 15:
11:30 am – Adult Education: The Reformation – Nave

Tuesday – October 17 – 9:30 am – Mt. Carmel Hot Lunch Program

Wednesday – October 18 – 6:30 pm – Vestry Meeting – Fireside Room

Thursday – October 19:
3 pm – Staff Meeting – Office
7 pm – Choir Practice – Choir Room

Sunday – October 22:
11:45 am – Contemplative Prayer – Library
1:30 pm – Ecumencial Service – The Redwoods

Thursday – October 26 – 7 pm – Choir Practice – Choir Room
Friday-Sat. – Oct. 27-28 – Diocesan Convention – Grace Cathedral

Saturday – October 28 – 10:30 am- 1 pm – High School Youth volunteer at St. Vincent de Paul Dining Hall

Sunday – October 29 – Kids to wear costumes to church! (Halloween Getting ready for All Saints)
11:30 am-12:45 pm – Godly Play Greeters' and Story Tellers' Luncheon
11:30 am – Adult Ed: Bonhoeffer - Nave
---
Seeking the Spirit
---
Proper 22 (Track 1)
October 8th
by The Rev. Br. Richard Edward Helmer
In the face of a horrific shooting in Las Vegas, the deep parts of our tradition hold up two striking images confronting the violence of the world.
---
Daring to Pray
She touched the fringe of his cloak. For she said to herself, "If I only touch his cloak I will be made well." – Matthew 9:21
I have a friend named Jan who has a hard time praying. She says that she doesn't like to put herself forward with God, because surely God has better things to do than listen to her prattle on about her problems. She seems so secure and self-sufficient, but in a little corner of my heart I wonder Does she believe herself to be of no account, as though God does not crave her attention and conversation, as though God does not yearn to speak to her?
I had a dream once in which God leaned close, smelling my hair, much as I used to bury my nose in the hair of my children when they sat on my lap, to catch and treasure that unique scent that was such a part of them. It was startling and unsettling, this being seen when I thought I was invisible.
Jan is not so easily convinced. She calls it maudlin poppycock. Get on with your life, she tells me. Do something useful.
The hemorrhaging woman, who would have been treated as something vile by her community, especially her spiritual community, who would have been warned that touching anyone, even by accident, would make them unclean – this loathed and shunned woman dares a secret prayer. She reaches out for Jesus' cloak. She must have been terrified.
This is my life, I tell Jan – this reaching out with the hand that has been rejected, this risk. I dare an open moment, an expectant silence. I dare to believe that I matter, that God has many things that God would say to me. I dare to believe that God yearns to say them.
I dare to have faith, the faith that I will – always – be healed.
Laurie Gudim works is a religious iconographer and writer in Fort Collins, Colorado. You can view some of her work at Everyday Mysteries. She has recently published her novel, Loving the Six-Toed Jesus, available from Amazon.
From Episcopal Café.
---
Prayers this Week
In our Church of Our Saviour Cycle of Prayer, we pray today for the Stephens family, the Steele family and the Chin family, and for the ministry of our Confirmation Class and their mentors, and for those who celebrate their birthdays, especially Kendra MacLeod, Joanna Mishalko, Larry Snyder, Mark Tarpey-Schwed, Peter Brophy. In the Anglican Cycle of Prayer, we pray for the Diocese of Swaziland (Southern Africa). Please pray for those who are ill and in need of comfort, especially Dan, Jack, Will, Aylin, Bob, Harriet, Rufus, Mel, Elessar, Vanessa, Kern, Deborah, Barry, Palmer, Scott, Grace, Bernadette, Carolyn, Don, Casey, Chris, Annie and Kyle's family; those serving in the military and overseas, especially Leif, Steven, Jane, Quinn, Christopher and Andrew; and those who have died, especially Redmond, Grace, John C., Kyle, Mary, Edith, Ambrose, Virginia, Orville, Sr., Fr. Eugene and Alan. We pray for all the displaced people who have had to leave their homes and have lost their homes due to the fires in Northern California, for victims of the recent shooting in Las Vegas, the hurricanes and the earthquake in Mexico, and all who face danger as they help in rescue and recovery efforts.We pray for all who are affected by terrorism around the world. We pray for justice and peace in the Middle East, especially at this time for the people of Aleppo and all of Syria, for comfort for all victims of violence around the world. We pray for all who seek stable housing throughout the Bay Area, and for all who organize to address the housing crisis.
Prayers of the People are updated weekly. Names of those desiring prayers may be added to the Sunday prayers or to this bulletin, with their permission, by contacting the church office.
---
Faith in Action
---
AIDS Memorial Quilt Exhibit
October 15 — December 1
For the 30th anniversary of the NAMES Project, twenty nine panels of the AIDS Memorial Quilt will be on display in Grace Cathedral. The opening event will be October 15, 2017, 9:00 am - 6:00 pm. The exhibit will culminate with a special event on World AIDS Day, Friday, December 1 at 7:30 pm that will include the rededication of the cathedral's recently-renovated AIDS Interfaith Memorial Chapel.
---
San Francisco Night Ministry Annual Gala: Aloha Makahiki
San Francisco Night Ministry provides pastoral care to the people on the streets of San Francisco during the hours of 10 pm and 6 am. With more than 50 years of service, it is truly a San Francisco institution. A Crisis Line and an accredited CPE program are also included in its impact for good in the community. Jointly led by Episcopalians and Lutherans, the ministry relies on individual donations for support. Please consider attending the gala to bid on silent and live auction items, or sending a donation in your place. Volunteers on the day are also needed and may contact Lorna Hill.
hillgraph@gmail.com
When: Saturday, October 21, 5:30 pm to 8:30 pm
Where: St. Mark's Lutheran, Urban Life Center, 1111 O'Farrell St., San Francisco
Cost: $108 ( $30 value for tax purposes)
Contact: Pam Dannenburg
Link: Night of Light
---
Night of Light — Parish Tables available!
Join us for Episcopal Impact Fund's (EIF) Night of Light! This year's fundraising event will take place on Saturday, November 4, at the Four Seasons in San Francisco. EIF welcomes ALL congregations to celebrate with them in support of the diocese's efforts to address the root causes of poverty in all six deaneries. "Congregation tables" of ten are available at the reduced price of $2,500; individual tickets are $350 each. The evening includes cocktails, dinner, auction, dancing – and plenty of inspiration! Please contact Ann Morris at Episcopal Impact Fund or 415.869.7835.
---
The Wider Church
---
Holy Hikes at Coyote Hills, Fremont
Join Holy Hikes for a c
elebration of the Holy Eucharist in the beauty of the outdoors at Coyote Hills Regional Park! They will gather at the parking lot outside the Visitor's Center at 9:45 am and hiking will begin at 10 am sharp. They will take the 3.5-mile Bayview Trail which is paved, fairly level, and handicap-accessible. Parking $5 per vehicle. Dogs are permitted on leash with a fee of $2 per dog charged by the park. Guide/service dogs free. For more details visit East Bay Parks. Bring a friend!
When: Saturday October 21, 9:45 am (gather); 10 am (hike)
Where: Coyote Hills Park, 8000 Patterson Ranch Rd, Fremont
Links: holyhikes.org
Contact: The Rev. Justin R. Cannon
---

168th Annual Convention of the Diocese of California updates
Good news! Everything you need to take part the Diocese of California's 168th Convention, based around the theme of "Holy Women," is now online. The agenda for the convention on Friday, October 27 and Saturday, October 28 is here. The Convention Booklet is now ready for download (reminder: there will not be printed out booklets provided at convention, so you can either review materials online or download the PDF and print it ahead of time). Pre-registration (which is strongly recommended) is here. Even if you don't plan to take part in convention, you are invited to have dinner on the Grace Cathedral plaza Friday at 5:45 p.m., followed by the 7.p.m. Eucharist, featuring a sermon by the Rt. Rev. Barbara C Harris, the worldwide Anglican Communion's first female bishop. On Saturday at 9 a.m., congregations are invited to take part in Morning Prayer, followed by an address by Bishop Marc, and a Q&A between the Rt. Rev. Barbara Harris and Stephanie Martin Taylor, former KQED anchor and now DioCal's Working Group Head for Communications. Please join us for one or both of these important two days dedicated to strengthening our Beloved Community.
When: Friday, October 27, 2 pm, Saturday, October 28, 9 am
Where: Grace Cathedral, 1100 California Street, San Francisco
Link: diocal.org/convention
Deadline to pre-register: Thursday, October 19
Pre-register: pre-registration
Diocesan Convention Volunteers needed for Registration!
Would you like to help check-in delegates, alternates, and clergy in at Diocesan Convention? Volunteers are needed for shifts on Friday (12:45 pm to 2 pm and 12:45 pm to 5 pm) and Saturday (7:45 am to 9 am and 7:45 am to lunch).
Contact: Mary-Jane Wood
---
Creating a Culture of Peace
Nonviolence Training, All Souls, Berkeley
DioCal is sponsoring Creating a Culture of Peace (CCP), a nonviolence training, on two Saturdays in November. The CCP program has offered this spiritually-grounded nonviolence training for dioceses, congregations, seminaries and community groups across the country for fifteen years. In a time of mass shootings, racism, deepening inequality, the alt-right, environmental destruction, and threats to immigrants, we can join the Jesus Movement by developing a deeper understanding of nonviolent change and honing our skills to be more effective in our communities and the public square. This training urges respectful engagement with opponents, instead of confrontation that polarizes and demonizes. It embraces two forms of active nonviolence: Constructive Nonviolence, which compels us to maximize our time and effort to create a just and peaceful alternative culture with new relationships, practices, and institutions, and also Nonviolent Resistance, which challenges us to protest injustice and oppression and to protect those oppressed. Facilitators will draw upon the wisdom and experience of participants. The training will include thought-provoking exercises, storytelling, meditation, ritual, small group discussions, brainstorming, role plays, and skill training and practice. Participants will explore violence and nonviolence, analyze social change and community-building, and plan concrete projects. They will discover their own personal and group power to implement nonviolent changes they desire. Certificates upon completion.
When: Two Saturdays, November 11 and 18, 9 am to 6 pm each day
Where: All Souls, 2220 Cedar Street, Berkeley
Cost: $50 for materials; scholarship is available
Registration: email the Rev. Eric Metoyer. A form will be sent in reply.
---
Programs at Bishop's Ranch
Fall Hike
October 21, 2017, 9:30 am – 3 pm
Register
1 day/1 meal (sack lunch)
$17 per person
Spend a Saturday walking the little-known trails of The Bishop's Ranch and explore its many habitats. Situated on rugged terraces above the Russian River, the Ranch lies between the conifer forests to the west and north and the heavily cultivated river floodplain with remnant riparian forest to the east. The hills and ridges offer spectacular views of the river valley's unique geography, and Ranch staff members will guide this rambling walk with a special eye towards discovering viewpoints from which to enjoy the autumn sights. PLEASE REGISTER BY: October 14, 2017
---
Parishioner Classifieds
---
---

---
Send in your work, service, or spirituality-related classifieds for the parish. Postings will be retained for one month, after which you may refresh them for re-posting.
---